Just a week after locking up free-agent-to-be Chris Sale with a five-year extension, the Red Sox secured long-term control over another member of their core Monday when they announced a six-year extension with shortstop Xander Bogaerts.  The deal reportedly guarantees Bogaerts $120MM from 2020-25 (in even, $20MM increments) and contains a vesting option for the 2026 season.  The vesting option is reportedly worth another $20MM and would kick in if Bogaerts made 535 plate appearances in 2025.  Bogaerts, a client of the Boras Corporation, is also said to have received an opt-out provision after the 2022 season.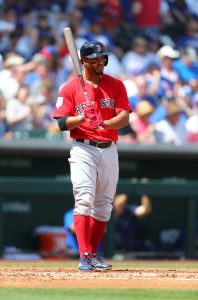 Bogaerts and the club had been in talks during the winter, and though neither side wanted negotiations to extend into the season itself, it seems things were close enough to the finish line that a deal was able to be struck just beyond Opening Day.
Bogaerts, who turned 26 last October, originally signed with Boston as a 16-year-old amateur out of his native Aruba, and quickly developed into one of baseball's best prospects.  He made a quick impact in his 2013 rookie season, helping solidify a problematic third base position for the Red Sox as the team went on to win the World Series.  He didn't fully begin to blossom until the 2015 season, and Bogaerts has gone on to generate 17.6 fWAR over the last four seasons, hitting .295/.354/.446 with 61 homers over 2588 plate appearances.  This includes a career-best 23 homers, .883 OPS, and 133 wRC+ in 2018, as Bogaerts rebounded from an injury-marred 2017 campaign to help lead the Red Sox to another World Series title.
Defensively, Bogaerts has been something of a mixed bag at shortstop.  The Defensive Runs Saved metric has never looked kindly on his glovework (-48 DRS) while his UZR/150 mark of -0.3 posits him as just slightly below average.  There has been some speculation that Bogaerts could eventually move from shortstop, and while that change doesn't look to be happening anytime soon, that decision could eventually hinge on Rafael Devers' development as a third baseman, plus whether prospect Michael Chavis plays at second base, third base, or elsewhere around the diamond.
The pact between Boston and Bogaerts is just the latest in a precedent-setting number of extensions over the last few weeks, as multiple superstars (both near and far from free agency) have chosen to lock in guaranteed paydays with their current teams.  Of this group, players who were going to be free agents after the 2019 season included Bogaerts, Sale, Nolan Arenado, Justin Verlander, Paul Goldschmidt, and Aaron Hicks.
It's clear that the lack of free agent activity in the last two offseasons has influenced many of these decisions, and in Bogaerts' case, he'll forego entering the open market for his age-27 season.  Keeping a young player who may just be entering his prime on a $20MM average annual value looks like a very solid deal for the Red Sox.  Bogaerts also has the ability to opt out of the contract as he enters his age-30 season, if he feels he can top the three years and $60MM still owed to him.
For luxury tax purposes, Bogaerts' new deal will add an even $20MM to Boston's Competitive Balance Tax bill beginning in 2020.  This is no small factor in the contract, given the rather onerous tax situation the Red Sox find themselves in, though some relief from at least the top level of the CBT structure could come as several contracts come off the books for the club next winter.
It also helps the Red Sox afford what would be their biggest extension yet — a pact with Mookie Betts before the reigning AL MVP hits free agency following the 2020 season.  Betts has been firm in his desire to go year-to-year in arbitration rather than sign a long-term deal before getting his chance on the open market, so the topic of an extension could be moot, though Boston will surely continue to explore the possibility of keeping the star outfielder at Fenway Park even if a $300MM+ commitment is required.  The Bogaerts and Sale extensions are evidence, if Betts needs any, that the Sox are serious about keeping this winning core of players together.
WEEI's Evan Drellich broke the news that the two sides were close to a deal (Twitter link).  ESPN.com's Jeff Passan reported the terms of the contract (Twitter links).  The New York Post's Joel Sherman reported the inclusion of the vesting option (Twitter links).  MLB Network's Jon Heyman added some details on the option and also first reported that Bogaerts had passed his physical Monday morning (Twitter links).  The Boston Globe's Alex Speier reported the final details on the vesting option, while Chris Cotillo of MassLive.com tweeted the annual breakdown.