The Patriots are re-signing long-time kicker Stephen Gostkowski to a two-year contract, per Adam Schefter of ESPN.com (via Twitter).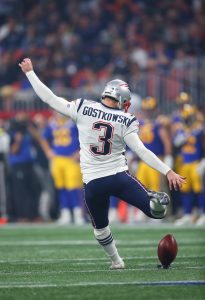 The timing of the deal is interesting, as we hadn't heard any updates on negotiations between the two sides for nearly three weeks. Earlier today, however, a report that the 49ers were interested in Gostkowski surfaced, and perhaps that was the push that New England needed to pull the trigger.
Gostkowski, 35, has served as the Patriots' place kicker since 2006, and he just finished a four-year, $17.2MM pact that he signed in 2015, but the Pats elected to not use the franchise tag on him and allowed him to hit the free agent market for the first time. After paying Gostkowski an average of $4.3MM per year over the last four seasons, New England was said to be waiting for a "market correction" (in other words, they wanted to pay him less this time around).
Other teams were reportedly interested in his services, but before today, we did not have any specifics in that regard.
Gostkowski is the third-most accurate kicker in league history. Last year, he made 27 of his 32 field goal attempts, good for an 84.4% conversion rate that ranked 20th in the NFL. He missed only a single extra point, and the Patriots ranked 17th in Football Outsiders' field goal/extra point metric.
New England selected Gostkowski in the fourth round of the 2006 draft, and he and punter Ryan Allen — who re-signed with the club last month — will work as the Pats' kicking specialists for the seventh straight year.
Photo courtesy of USA Today Sports Images.