Cam Newton isn't the only long-time veteran getting the boot from the Patriots on Tuesday. New England is expected to make rookie Quinn Nordin their new kicker, thus paving the way for the release of Nick Folk, Field Yates of ESPN.com tweets.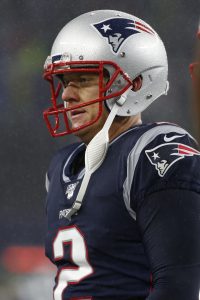 Folk entered the league back in 2007 and spent his first few years as the Cowboys' kicker, although he's most well-known for being the Jets' kicker for seven seasons from 2010-16. After his last season with New York he had a few games with the Bucs, but then found himself out of the league.
After spending all of 2018 out of football, he signed with the ill-fated AAF in 2019. He managed to find his way back to the NFL in October of 2019 when the Patriots cut Mike Nugent, and he was the kicker in all 16 of New England's games last year. He was solid, making 26 of 28 field goals and 30 of 33 extra point attempts.
Nonetheless he's never had the biggest leg, and it seems like Bill Belichick wanted a younger option with more upside. Folk will turn 37 in November. Nordin is an UDFA rookie from Michigan.
Photo courtesy of USA Today Sports Images.