The Patriots continue to be an intriguing wild card ahead of tonight's first-round. While they re-signed Cam Newton this offseason they didn't give him very much money, and there's been a lot of speculation they might move up for a passer.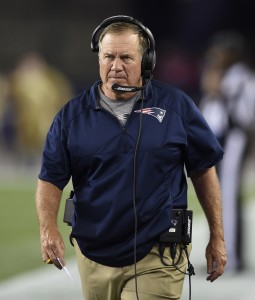 While there have been a lot of hypotheticals about splashy trades up into the top ten for Justin Fields or Trey Lance, they could be in reality planning something more modest. Accordingly, one GM told Albert Breer of SI.com "that New England might be looking more seriously at a move up outside the top 10, rather than into it."
The Pats are currently slated to pick 15th, so that would mean moving up only a few spots at most. Meanwhile, Breer reports that New England has spoken with the "Falcons, Lions, Panthers and almost every other team in front of them (with the exception of their division rivals)," about moving up, so they're doing their due diligence.
Another exec told Breer he believed the team was "trying to play its interest cool for now." They've clearly got a good idea by now about what it'll take to move up to pretty much every spot in the draft, and Bill Belichick could strike at any time.
At the very least they're staying active on the phones, and can be considered one of the likeliest teams to make a move this evening. Perhaps if one of Fields or Lance start to slip and get to 11 or so, then Belichick would pull the trigger. We'll find out shortly…
Photo courtesy of USA Today Sports Images.