The Patriots and cornerback Stephon Gilmore haven't made any recent progress on their extension talks, according to Albert Breer of Sports Illustrated. Gilmore told reporters recently that he's not happy with his current contract, but also said that he wouldn't demand a trade.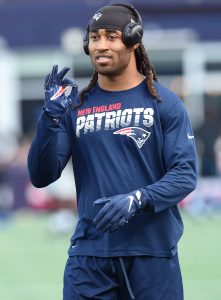 "I just want what I'm worth, however that plays out," Gilmore said earlier this month. "Every player should be paid what they're worth. That's just how it is. Hopefully we can find some common ground and get it situated. I just know what I bring to the table and my style of play."
Gilmore, 31 in September, is set to make just $7MM in base salary this season after a chunk of his money was advanced in 2020. In terms of average annual value ($13MM), the 2019 Defensive Player of the Year ranks as just the 13th highest-paid cornerback in the NFL. At the time of signing, his five-year, $65MM deal was plenty. Since then, the former Bills first-round pick has performed as one of the game's premier cover men.
There's mutual interest in a longer arrangement, since Gilmore was a first-team All-Pro in 2018 and '19.However, questions persist about last year's torn quad. Some believe that they can smooth things out with incentives for the current year, like they've done in the past for Rob Gronkowski and Tom Brady. But, Breer hears that there hasn't been much progress on that front either.
Photo courtesy of USA Today Sports Images.