The Patriots picked up Matthew Slater's option back in March, assuring that their special teams ace would be back in New England next season. However, if the 33-year-old has his way, he'll be sticking with the Patriots for the rest of his career. Slater told ESPN's Mike Reiss that he doesn't want to play anywhere else, a fact that will be especially relevant when he hits free agency next offseason.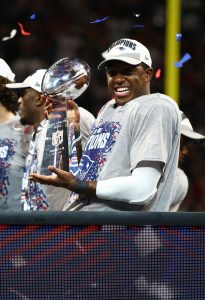 "I was really excited to hear from Bill [Belichick] that they wanted me part of the team moving forward," Slater said. "I'm so thankful that the Patriots saw fit to continue to make an investment in me as a player and as a leader for our team. I'm so glad I've been able to be here the entirety of my career; it really means a lot to me that I've been able to be in one place and be a part of such a great organization."
As Michael David Smith of ProFootballTalk.com points out, Slater's desire to play his entire career with the Patriots could have a deeper meaning. After all, the veteran's father, Hall of Famer Jackie Slater, played his entire 20-year career with the Rams.
Slater still has a ways to go to catch that number. The special teamer has spent 11 years with the Patriots, winning three Super Bowls and earning seven Pro Bowl nods. With only a single regular season reception on his resume, Slater has clearly made a name for himself on special teams. He's compiled 145 tackles throughout his career, and he's also returned 35 kickoffs (although he only has three returns over the past four seasons).
Considering the fact that Slater primarily contributes on special teams, he understands that a lost step could spell the end of his tenure in New England. On the flip side, it's that mindset that keeps the veteran motivated.
"I think I've always approached my career as every year could be my last year because of the nature of my position and the unique role I have on the team as a core special teams player," Slater said.
Photo courtesy of USA Today Sports Images.