Josh Rosen remains an Arizona Cardinal and plans to report to the start of the team's offseason program. But with the Cardinals widely expected to draft Kyler Murray at No. 1 overall, trade rumors persist.
The Redskins remain at the front of the line, with NBC Sports' Peter King predicting that is the most likely destination for the former UCLA standout. Both Jay Gruden and new offensive coordinator Kevin O'Connell liking the pocket passer coming out of college, King notes, adding that Washington's offense would be a good fit for Rosen.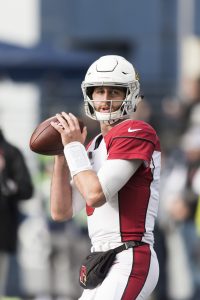 Washington has checked in but will not offer its No. 15 overall pick for Rosen. Even the Redskins' second-round pick (No. 46) may be too rich of an asking price for the Cardinals, with King adding it's possible Washington's top third-round choice (No. 76) may be enough to pry away the 22-year-old passer. The Redskins were the first team connected to Rosen, but they then traded for Case Keenum, complicating their interest. However, the $6.24MM left through 2021 on Rosen's contract would make sense for the Redskins, who have Alex Smith's lofty cap hits on their books through 2022.
Washington has also done "a ton" of work on this year's draft-eligible quarterbacks, and Albert Breer of SI.com notes teams looking to move out of the top 10 view the Redskins as a prime trade partner. Although, Redskins executive VP Doug Williams did not sound like a trade-up was too likely.
Beyond Washington, Breer reports the Dolphins, Chargers and Giants have checked in on Rosen's availability. The Cardinals have not given their incumbent starter any indication if he's available, per Breer. They also are unlikely to accept the Giants' No. 95 overall pick for a player they drafted 10th last year, King adds, which could complicate Big Blue's plans. They have discussed a Rosen deal internally but have no picks between Nos. 37 and 95, giving up their third-rounder in last year's supplemental draft.
The primary team linked to waiting until 2020 for their possible long-term quarterback, the Dolphins appear to be less bullish on this year's class. The only way they will trade for Rosen or use their first-round pick on a passer this year is if they are convinced he is a possible 10-plus-year starter, King adds. The Dolphins have not had a 10-year QB starter since Dan Marino.
The Patriots were not high on Rosen last year, Breer notes, but that was partially because of what it would have cost them to move up in the first round to acquire him. After a rough year for Rosen, Patriots interest may still not be there, per King. Philip Rivers continues to indicate he has no near-future retirement plans, and the Bolts gave Tyrod Taylor $6MM on a two-year deal. This would not point to a Rosen-to-Los Angeles scenario coming to fruition.
Photo courtesy of USA Today Sports Images.