Dispatches from the NFL Draft in Nashville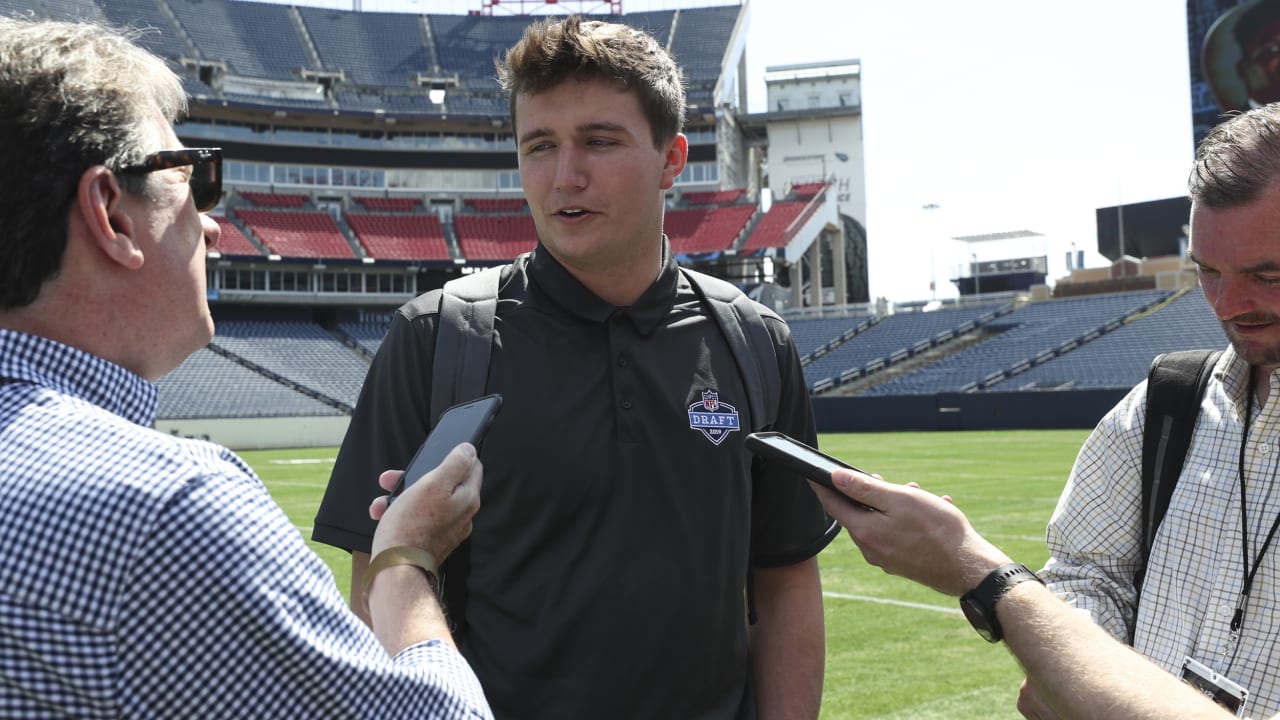 NASHVILLE — Dispatches from Wednesday's media availability with about 20 or so NFL draft prospects — minus Kyler Murray, interestingly enough — at Nissan Stadium, home of the Tennessee Titans….
* More than one draft-week rumbling has centered on Missouri's Drew Lock as the quarterback most likely to "fall'' in the first round, with some analysts projecting him to last into the 30s. I have him going at No. 32, in New England's slot, in my final mock draft, albeit to Denver after a trade with the Patriots.
If those rumors come true, New England obviously would be in position to tab him as Tom Brady's eventual successor if it so desires, and Lock would instantly become involved in what is eventually expected to be one of the most highly-scrutinized transitions in NFL history.
Because some day somebody is actually going to succeed No. 12 in Foxboro, even if they'll never really replace him. (And even if none of us can really imagine it at the moment).
We don't know if that'll be Lock, because we don't truly know how the Patriots really feel about him as a prospect. But how would Lock feel about become the guy who could be groomed to take over for Brady some day? Even if it meant sitting on the bench for the first two or even three years of his NFL career? That question we now have an answer to.
"I'd 100 percent rather go 32nd to the right team than No. 1 to a bad team,'' Lock told me Thursday morning in a quick chat on the sunny sidelines at Nissan Stadium. "If that happened (being drafted by the Patriots), I'd be honored for sure. Tom's obviously there for a couple more years, but to be able to sit behind a guy like that and learn from one of the best quarterbacks of all time — if not the best — I think that's an ideal situation for any quarterback.''
If you've been paying attention for the past four months or so, you know the Broncos are the team most often linked to Lock, either at their No. 10 slot or down lower in the first round, with Denver trading back up to get him. Lock says he's heard all the Broncos chatter, but he's not letting himself buy into it. He has no gut feel where he's headed, even though it's a little more than T-minus 24 hours until the picking starts.
"Even if I had a (gut feel), as a betting man you wouldn't tell anyone your hand,'' he said. "I've tried to stay as far away as I could from all that (the mock draft industry), and I've told my parents the same thing. Because if the Denver stuff was true and everyone already knew before draft day, there'd be no draft.''
Well, I'm not sure the league would cancel the event itself, but I get his point. The suspense would be gone and Lock doesn't think the NFL would let that happen, and he may well be right about that. But Denver still seems to be the most motivated team to come after him at some point, even if he does bear a somewhat strong facial resemblance to former Broncos first-round quarterback Jay Cutler, which I imagine is not necessarily seen as a plus in his favor.
* So how about you, Daniel Jones of Duke? Do you want to be the guy who replaces the legend that is Tom Brady some day? Would that be an NFL quarterbacking fate you'd be interested in? The football world needs answers.
"I think that'd be an awesome opportunity,'' Jones said. "Obviously he's a one of the best ever, and to watch him day in and day out to see how he got to where he is would be a huge opportunity for any young guy.
"I'd certainly still look forward to it (even if took two or three years of not playing). That'd be a special opportunity that you could get anywhere else. I think I'd relish it. Coming into a situation like that you'd need someone who's confident in himself and someone who doesn't feel the need to be someone else, and I think I'd personally be a perfect fit for that.''
Published at Wed, 24 Apr 2019 21:13:57 +0000