The 49ers became the talk of the pre-draft portion of the offseason when they engineered a trade up to the No. 3 overall pick. It was immediately clear that San Francisco was going to draft a QB with that selection, and for a time, the rumor was that the club had its eye on Alabama passer Mac Jones. Ultimately, of course, the team drafted North Dakota State signal-caller Trey Lance.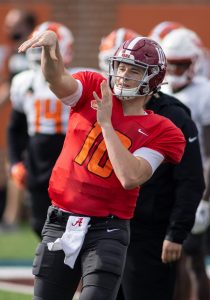 However, as Adam Schefter of ESPN.com reports, one of the reasons the Niners made the deal was because they believed the Patriots had identified Jones as their quarterback of the future and wanted to beat New England to the punch. That suggests that the 49ers did initially favor Jones — who was seen as an ideal fit for Shanahan's scheme — and were only later persuaded to take Lance. The Niners said all along that they viewed multiple passers as legitimate candidates for the No. 3 pick, so blocking the Pats and assuring themselves of the chance to select Jones was not the only motivation for the deal, but it was certainly a perk.
As Tom E. Curran of NBC Sports Boston tweets, there may have been another benefit to the trade as it relates to New England. Even if Lance was the 49ers' target all along, floating the possibility that they were going to nab Jones might have prompted the Pats to swing a deal for Jimmy Garoppolo.
In the end, Jones fell to the Patriots at No. 15 overall, and he will be under center for the club's regular season opener against the Dolphins today. Meanwhile, Garoppolo is still starting for the 49ers, and Lance will operate as his backup.
That arrangement may not last long. As Jason La Canfora of CBS Sports writes, Shanahan has already installed plays for Lance, who will see the field in certain packages right away. And one source says Lance will assume more and more responsibilities as the early part of the season goes on while Garoppolo showcases his talents for teams that might be interested in trading for him prior to the November 2 deadline.
Photo courtesy of USA Today Sports Images.