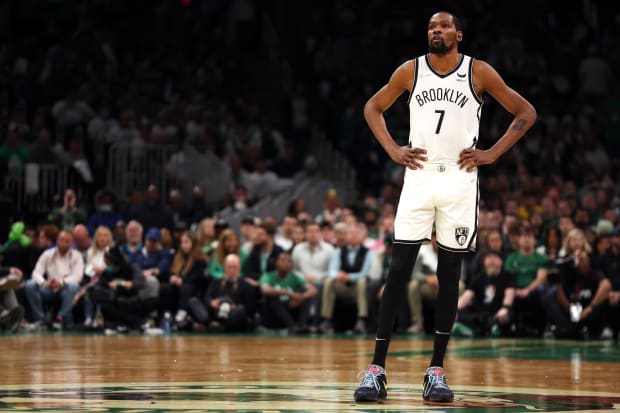 Now that the Brooklyn Nets have traded Kyrie Irving, star forward Kevin Durant is widely seen as the next domino to fall. ESPN's Stephen A. Smith believes that his trade will be happening soon. 
During Monday's edition of First Take, Smith said that he's hearing that the Boston Celtics are in play to trade for Durant. The player who might be getting sent to Brooklyn in such a trade might be All-Star forward Jaylen Brown.
"I'm hearing he's on the verge of potentially being moved, I'm hearing Boston is making some calls, keep your eye on that. Jaylen Brown," Smith said, via Legion Hoops.
Boston would probably need to offer a lot more than Jaylen Brown though. The Nets won't trade a player of KD's caliber to a division rival for one star player.
Of course, there's no saying for sure that the Celtics will be the trade or that the Nets will even trade Kevin Durant to begin with. Stephen A. Smith isn't exactly batting a thousand on "what he's hearing" when it comes to trades, and it's not like Durant has publicly requested one either.
That said, Durant parting ways with the Nets seem inevitable at this point. He joined the Nets back in 2019 in large part because he wanted to play alongside Kyrie. 
Now that the two are apart, he's probably going to want to go his own way and try to play with a contender. 
Will Kevin Durant be traded to the Celtics? Will he be traded at all?