The Sixers have agreed to terms with veteran swingman Danny Green on a two-year deal that will bring him back to Philadelphia, according to his Inside The Green Room podcast co-host Harrison Sanford (Twitter link). A league source confirms the news to veteran NBA reporter Marc Stein (Twitter link).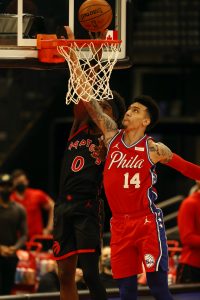 Because the 76ers have Early Bird rights on Green, they won't need to use their mid-level exception to complete the signing.
Agent Raymond Brothers tells ESPN's Adrian Wojnarowski (Twitter link) that the 34-year-old's new deal won't include any options. However, a follow-up tweet from Sanford suggests the second year will be non-guaranteed, with a July 1, 2022 guarantee date.
According to Sanford (Twitter link), Green had discussions with the Nets, Celtics, Bucks, Bulls, and Warriors, among other teams, during free agency this week. He turned down a two-year offer from the Cavaliers, Sanford adds.
A 12-year NBA veteran who has won titles with three different teams, Green started all 69 games he played for Philadelphia in 2020/21, averaging 9.5 PPG, 3.8 RPG, and 1.3 SPG with a .412/.405/.775 shooting line in 28.0 MPG.
Green has long been a reliable three-and-D wing, having knocked down 40.1% of his career attempts from beyond the arc.
The Sixers waived George Hill this week and lost Dwight Howard to the Lakers, but have now lined up deals to bring back both Green and Furkan Korkmaz. The club also signed Andre Drummond to a minimum-salary contract on Wednesday and has agreed to a deal with forward Georges Niang.