In our poll before the No. 2 seed Celtics faced the No. 3 seed Bucks in the East's second round, 62.87% of our readers predicted Boston to emerge victorious in the series.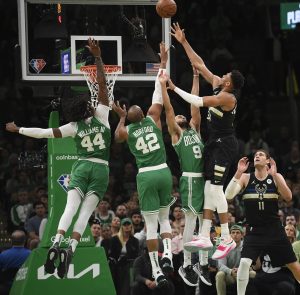 Through three games, Milwaukee holds a 2-1 lead in a hotly contested matchup. The first two games were both fairly lopsided, with the Bucks putting on a defensive clinic in Game 1's 101-89 win, followed by the Celtics making key adjustments in a blowout 109-86 victory in Game 2, holding Milwaukee to just 3-of-18 on three-pointers.
Game 3 had some controversy, as both sides were unhappy with the officiating. The Bucks ultimately emerged victorious by a score of 103-101 after the Celtics missed three put-back attempts in the closing seconds.
Reigning Finals MVP Giannis Antetokounmpo has been the best player in the series to this point, averaging 31.3 points, 11.3 rebounds, 9 assists, 1 steal and 1.7 blocks in 38.1 minutes per contest, although he's struggled with shooting percentages (.439/.167/.625). In the absence of Khris Middleton, who will miss at least Game 4 (and possibly the rest of the series), Antetokounmpo is carrying a heavy load and will have to continue to play at an extremely high level to triumph over Boston's top-ranked defense.
For the Celtics, Jaylen Brown (23 points, 9 rebounds, 4.7 assists and 1.3 steals on .489/.417/.867 shooting) and Al Horford (15 points, 12.3 rebounds, 3.7 assists, 1.7 steals and 1.7 blocks on .459/.429/1.000 shooting) have both been fantastic. However, the team needs more from star Jayson Tatum, who shot just 6-of-18 from the field in Game 1 and 4-of-19 in Game 3, sporting an overall slash line of 20 points, 3.3 rebounds, 4.7 assists, 2 steals and 1.7 blocks on .351/.360/.688 shooting.
Wesley Matthews has done a great job shadowing Tatum and making him uncomfortable, but Tatum is 11 years younger (24 vs. 35) and four inches taller (6-8 vs. 6-4) than Matthews, so he should still be able to get his shot off. Of course if he drives to the paint, Antetokounmpo and/or Brook Lopez will be waiting for him, so that makes things more complicated.
Who will Monday's crucial Game 4? Will it be another nail-biter? We want to know what you think. Vote in our poll, then head to the comment section below to weigh in with your thoughts on Celtics/Bucks!
Take Our Poll
(function(d,c,j){if(!d.getElementById(j)){var pd=d.createElement(c),s;pd.id=j;pd.src='https://cdn.hoopsrumors.com/wp-content/plugins/polldaddy/js/polldaddy-shortcode.js';s=d.getElementsByTagName(c)[0];s.parentNode.insertBefore(pd,s);} else if(typeof jQuery !=='undefined')jQuery(d.body).trigger('pd-script-load');}(document,'script','pd-polldaddy-loader'));