Marcus Smart, Mikal Bridges, Rudy Gobert, Giannis Antetokounmpo and Jaren Jackson Jr. comprise the 2021/22 All-Defensive First Team, the NBA announced in a press release.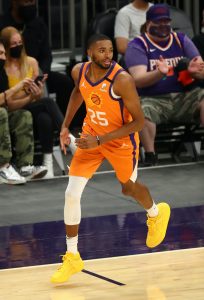 Smart, who was voted Defensive Player of the Year, received the most points with 198 (99 first-place votes), but he was left off of one voter's ballot. It's his third All-Defensive nod, all First Team.
DPOY runner-up Bridges was second with 193 points (it's his first All-Defensive team), followed by third place finisher Gobert (171), a three-time DPOY who has now been voted to the First Team for the sixth straight season.
Antetokounmpo, the '19/20 DPOY, was voted to his fourth consecutive First Team. He was also selected to the Second Team in '16/17, so it's his fifth nod overall.
Jackson, who led the league in blocked shots per game at 2.27, makes his first All-Defensive Team, edging Bam Adebayo by just one point (153 to 152) for the First Team. It's the third straight season Adebayo has been selected to the Second Team.
Jrue Holiday earns his fourth All-Defensive honor, now owning two Firsts and two Seconds. He also earned a $120K bonus for his efforts, per Jim Owczarski of The Milwaukee Journal Sentinel (Twitter link), which will increase the Bucks' luxury tax payment to about $52MM.
Matisse Thybulle was selected to the Second Team for the second straight year, while Robert Williams earns his first nod. Williams has a $223,215 bonus attached to his rookie scale extension, but he won't earn it for his efforts this season because he's in the final season of his rookie contract. However, the award will change his cap hit for '22/23 (up to $10,937,502), because he's now considered likely to achieve an All-D nod again next season, as ESPN's Bobby Marks relays (via Twitter).
Draymond Green, the '16/17 DPOY, was the final selection to the Second Team. It's his seventh All-Defensive Team overall (four Firsts, three Seconds). Green is now second among all active players in All-Defensive Team awards, only trailing Chris Paul (nine). He was previously tied with LeBron James at six.
Here are both All-Defensive teams in full, with their voting point totals noted in parentheses. Players received two points for a First Team vote and one point for a Second Team vote.
2021/22 All-Defensive First Team:
2021/22 All-Defensive Second Team:
A total of 24 other players received votes: 10 guards, 11 forwards and three centers. Among the group that missed the cut, Fred VanVleet was the top guard with 41 points, Evan Mobley was the top forward with 13, and Joel Embiid was the top center with 33. The full results can be found here.
One thing worth noting, which I personally disagree with: media members with ballots are asked to select two guards, two forwards and one center for each team, and vote for players "at the position they play regularly," which is counterintuitive in the modern NBA, where positions increasingly matter less and less. "Players who received votes at multiple positions were slotted at the position at which they received the most voting points," per the release.
Forcing voters to shoehorn players into positions is a poor process. For example, Adebayo starts at center, but is listed as a forward; Bridges is listed at guard, but starts at small forward. I'm not saying those players were undeserving, far from it — but it's an irritating and outdated inconsistency.
In my opinion, the best defensive players should be on the All-Defensive teams, regardless of position. I'd also like to see a third All-D team so more recognition is given to players for their efforts on the less glamorous end of the court.