In a move that seemed inevitable, the Boston Bruins have officially re-signed Taylor Hall. The former MVP has inked a four-year deal worth $24MM, meaning he'll carry a $6MM cap hit for the Bruins moving forward. It's a step down from the $8MM he made in 2020-21, but comes with the security of a multi-year contract. Per CapFriendly, the breakdown is as follows:
2021-22: $4.5MM, NMC
2022-23: $6.0MM base, $1.0MM SB, NMC + M-NTC (16 team no trade list)
2023-24: $6.25MM base, $1.0MM SB, NMC + M-NTC (10 team no trade list)
2024-25: $5.25MM base, NMC + M-NTC (10 team no trade list)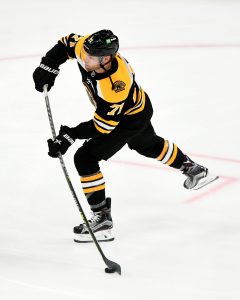 Hall, 29, had a dreadful start to his 2020-21 season, scoring just two goals in 37 games with the Buffalo Sabres. Looking disinterested and frustrated, he was unable to create offense at the level he was accustomed to, though part of that was simply bad luck. Hall had just a 2.3% shooting percentage in Buffalo, finding the back of the net just twice on 88 shots. That number was begging for some regression to his career number of 10.2% and in Boston, surrounded by better linemates, Hall found it.
After being acquired by the Bruins at the deadline, Hall scored eight goals and 14 points in 16 games (with a 16.7% shooting percentage), immediately finding chemistry with veteran center David Krejci. While his playoff performance wasn't quite as good, it quickly became apparent how well Hall fit as a secondary scoring option behind Boston's big line and an extension seemed likely. When both sides expressed a desire for a contract, it was all but a certainty that Hall would be back after the expansion draft.
That's not to say this deal comes without risk. Hall has faced injury troubles throughout his career, playing more than 76 games just once in his 11 seasons, and has been one of the most inconsistent offensive performers in the league since winning the Hart Trophy in 2018. That season he scored 39 goals in 76 games for the New Jersey Devils, but has just 37 in the 151 games since. His possession numbers and shot creation have stayed excellent throughout, but it is still not a guarantee that Hall lives up to this new contract in Boston.
One of the biggest questions? His lack of playoff experience. For a team like Boston that has its sights set on the Stanley Cup every year, Hall's 25 career postseason games are a risk. It's hard to know exactly how he will perform when the checking is tighter and the games more physical, though he does have 17 points in those 25 appearances so far.
It's obviously a bet that Bruins GM Don Sweeney is willing to make, and it comes at a reasonable cost. Hall will slide in just behind Brad Marchand as the team's fourth-highest paid forward.
Photo courtesy of USA Today Sports Images